Attack on Titan – Season 2 Limited Edition Blu-Ray & DVD Combo Pack Details Confirmed
Following on from the announcement late last year that Sony Pictures Entertainment will be releasing the second season of Attack on Titan as a Limited Edition Blu-Ray & DVD Combo Pack, that is in addition to a standard DVD and standard Blu-Ray release, new details have been revealed on what to expect from this Limited Edition release.
For starters this Limited Edition release will be exclusive to the online retailer Zavvi and that the 24-page booklet 'Notes from Behind the Wall – Part III' will actually be a hardback digi-pack case that holds both Blu-Ray and DVD versions of the series. In addition to this hardback styled book-come-digipack-hybrid is a 60-page artbook featuring artwork from the series; once again in a hardback type form that will slot alongside the 'digipack book' inside the chipboard artbox. Naturally this may sound confusing; but it is basically a replica of the limited edition sets released in America for Attack on Titan.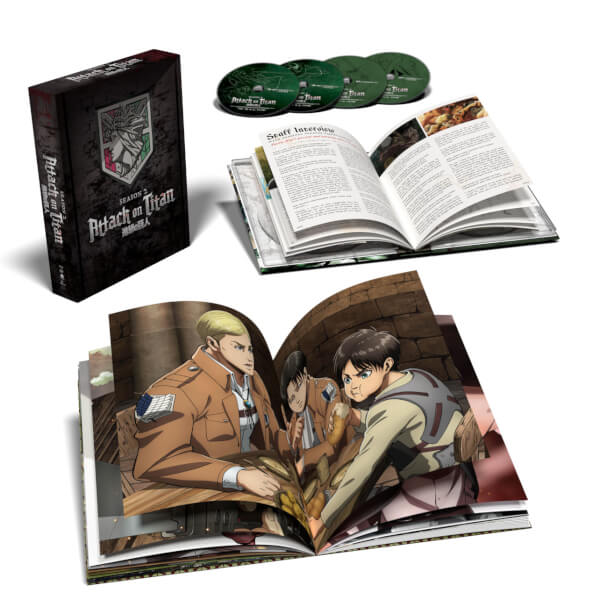 In terms of 'disc content' then fans can expect the entire series, in both English and Japanese (with English Subtitles) audio options as well as a selection of 'on disc' bonus features; of which are listed below:
DVD & Blu-ray Limited Edition Bonus Features:
Episode Commentaries
Anime Expo 2017: Interview with Trina Nishimura, Tetsuya Kinoshita & Yui Ishikawa
Interview with Original Creator Hajime Isayama
Inside the Episode
Eyecatch Gallery
Promo Videos
Textless Opening & Closing Songs
Trailers
Naturally the 'on disc' content will be the same regardless if you decide to go for the Standard DVD, Standard Blu-Ray or Limited Edition Blu-Ray & DVD Combo Pack; but it is nice to know what content can be expected – and it is more than the standard anime release.
Attack on Titan – Season 2 is currently scheduled for release on the 26th February 2018 and will be available as a DVD, Blu-Ray and Limited Edition Blu-Ray and DVD Combo Pack set and is currently available to pre-order from retailers online. The Limited Edition set meanwhile is exclusive to Zavvi. Attack on Titan – Season 1 meanwhile is available on DVD and Blu-Ray via Manga Entertainment UK.