Weathering With You Release Details Announced; Including a Zavvi Exclusive 4K UHD Blu-Ray Deluxe Edition
Earlier in the year Anime Limited announced that Weathering With You would receive a DVD, Blu-Ray and Collector's Edition Combo Pack on the 28th September 2020, and today the distributor have now confirmed the contents of those editions as well as unveiling a Zavvi Exclusive Deluxe Edition containing a 4K UHD Edition of the film that will be released a short time later on the 2nd November 2020.
The Collector's Edition, which will be presented in a Steelbook, Standard DVD and Standard Blu-Ray, will all be released on the same day on the 28th September 2020 and is now available to pre-order form a variety of different online retailers including Amazon, Anime-On-Line and Base. A breakdown of what each edition will contain can be found below:
Collector's Edition Steelbook:
SRP: £39.99
Steelbook Packaging
Blu-Ray
DVD
Soundtrack CD
Standard Edition DVD:
SRP £17.99
Standard Edition Blu-Ray:
SRP £19.99
Meanwhile a short-time later on the 2nd November 2020 the Zavvi Exclusive Deluxe Edition will be released. This Deluxe Edition will mark the first time that an anime film has been released in the UK in 4K UHD format and will be available to pre-order from Zavvi from Monday 20th July 2020.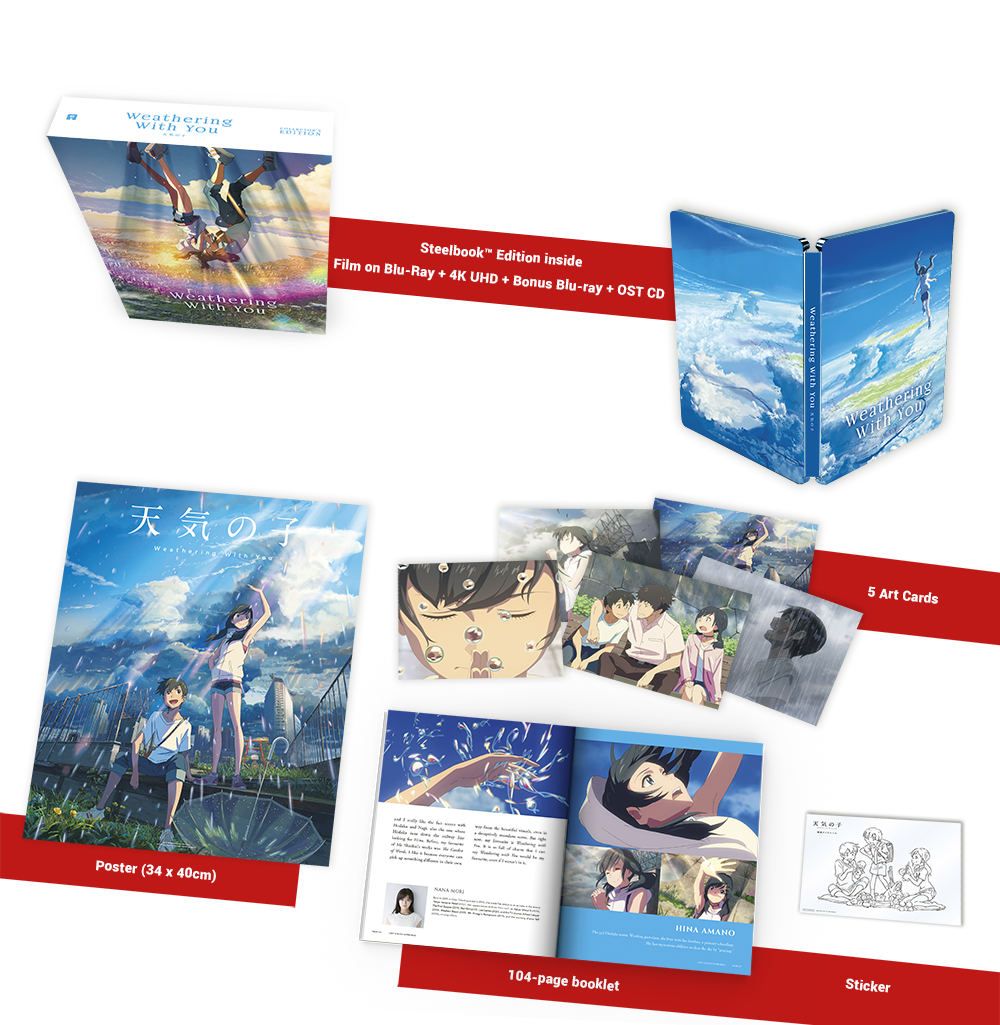 Deluxe Edition *Exclusive to Zavvi.com*
£69.99
Steelbook Packaging
Collector's Art box
4k UHD Blu-Ray
Blu-Ray (Film)
Blu-ray (Bonus Disc)
Soundtrack CD
104-page hardback book
Poster
Art cards
Sticker
Weathering With You will be available on Blu-Ray, DVD and Collector's Edition Blu-Ray from the usual online retailers from the 28th September 2020 while the Deluxe Edition, which is exclusive to Zavvi, will be available from the 2nd November 2020.