Anime Limited to Release a Collector's Edition Blu-ray Version of the Gurren Lagann Franchise
In a rather surprising discovery, as pointed out by NormanicGrav on Twitter, a listing on Zavvi has revealed that Anime Limited will be re-releasing the Gurren Lagann: Ultimate Edition set (which retailed for £149.99 several years ago) as a Collector's Edition release next year.
Currently listed on Zavvi for £41.99, with a retail price of £59.99, this 'Collector's Edition' release of the franchise will contain the complete twenty-seven-episode anime series, the two feature-length-films (which of course are being released on their own next year as well) and the animated shorts. This Collector's Edition will also contain a 40-page art book and see the Blu-ray discs packaged in two amaray cases that slide into a chipboard artwork featuring glorious artwork; all of which is illustrated below in the beauty shot.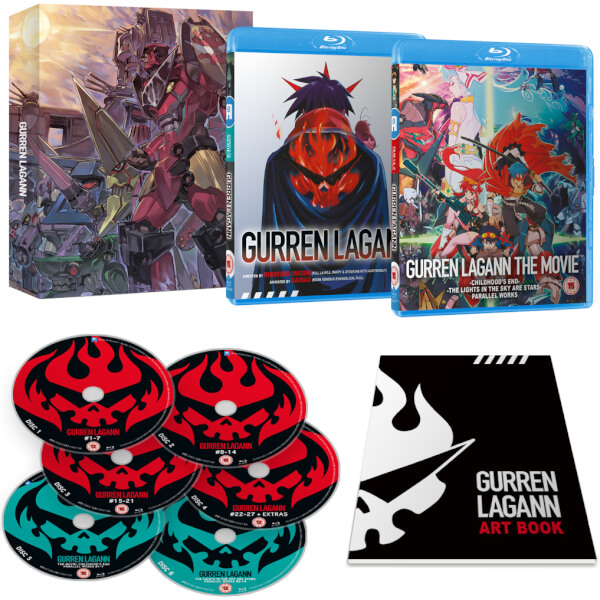 As illustrated in the packshot above both the TV Series and Movie Colletion will come in their own amaray Blu-ray cases (which suggests the Anime Limited are simply repackaging the previous TV Series release with the newer Movie Collection release inside a single package). It's not uncommon for distributors to re-release titles but it is quite surprising to see Anime Limited release this collection as it was previously understood (or assumed) a collection such as this would remain exclusive to the Ultimate Edition. (plus that art box looks better than the artwork used on the Ultimate Edition).
In any event this Collector's Edition release of Gurren Lagann is scheduled for release on the 6th February 2017 and is currently available to pre-order from Zavvi.